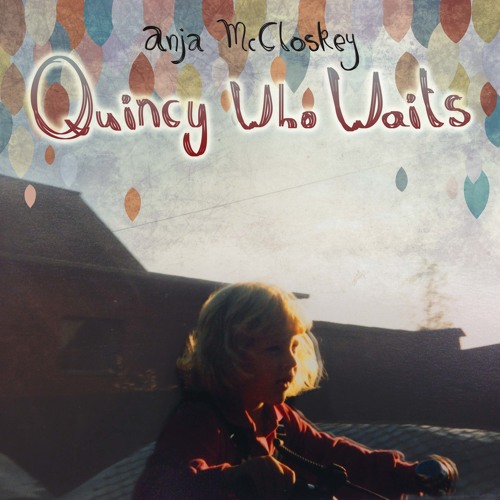 Anja McCloskey
Quincy Who Waits
Release Date: 21st July
After reviewing single 'Too Many Words' earlier this year, and absolutely loving what I heard from this girl who has the most wonderful vocal tone and mash of influences to her music, I knew that I wanted to hear what her soon to be released second album would have in store. Getting sent the album to review beforehand meant I didn't have to wait as long as I should have and this really is a release that will not disappoint McCloskey's fans and will see easily her go from strength to strength.
'Celluloid Glimmers' opens proceedings in an upbeat manner with jazzy accordion that seems to bounce along creating a jolly rhythm and the vocal style manages to raise and fall along with that. Violins come in with long sounds that punctuate the happy tone with a more sombre atmosphere but it somehow does not put a dampener on the track. Next track 'Suit Yourself' keeps the long violin notes but adds an oscillating organ as well. Here, and throughout, McCloskey perfectly showcases her vocal ability from big, high notes to a deeper, richer voice laced with an almost sultry edge.
Lead single 'Too Many Words' feat. Mikey Kenney sees McCloskey's harmonious vocals take us through the highs and lows of the lyrics and music perfectly. The music itself here is folk inspired but with a grand cabaret style hitting us in moments of the track from the French sounding accordion and fast paced lyrics that speak of a relationship going wrong with lines such as "I spent insignificant hours waiting for you to burn".
Drums sticks hit together create a quick rhythm to open before a quiet cymbal, hushed guitar and a more placid vocal delivery take us through the sparse 'Henry Lives' to big ending featuring a rock fuelled guitar line and crashing cymbals. While 'Red' is all about the powerful lyrics full of emotion that plead with a former lover – "you did save me once, please save me twice" – hushed in their delivery against gentle, flowing music.
A chaotic atmosphere is found on 'Insane' with French accordion, Spanish plucked guitar strings and squealing violins which is juxtaposed with 'Why Tea' and its fast vocal delivery, traditional folk sounds and the gothic, sinister edge given by an organ and drawn out vocals and violins.
Campbell Austin features on 'The Calm' where the duetting vocals are not only in perfect with each other but with the high pitched sounds that feature here with the huge drums and wailing guitar. The bouncing accordion is back for 'Quincy Who Waits In The Daffodils' giving a quick tempo which quickly taken back when 'Come Tell Me' starts with its atmospheric sounds, softly strummed guitar and soothing vocals which gradually builds into a grand ballad full of layers of stunning musicality.
But it is closing track 'The Boy Is Lost' that really strikes a chord emotionally with a plodding piano line and elongated violins giving a classical and calm feel before gentle vocals delivered with care and emotion come along to compliment. This heart-breaking song with lyrics that tell a sad story flows wonderfully through the violin which adds so much poignancy to everything with its beautiful lamenting sound.
Check out single 'Too Many Words' from the album below:
To find out more about Anja McCloskey then visit her website, her Facebook page, her Soundcloud page or you can follow her on Twitter – @Anja_McCloskey
Credits