Welsh five piece Cut Ribbons impressed me instantly with their wonderful set supporting Thumpers at Leadmill. As soon as their set finished I bought an EP and set about listening to more of their stuff, finding out more about them and writing about them so you guys could find out just exactly how good they are as well.
The 'Bound In Love' EP was released in 2013 and is 4 tracks that I think perfectly showcase all of the band's talents and influences while the 'In The Rain' single was released recently and is a great example of the band's growth in sound over the past few months. I've reviewed both for you here starting with the 'Bound In Love' EP.
Strumming guitar that ebbs and flows creates a track laden with atmosphere from the off on 'Memorial Pt. 1' while soft male vocals add further clarity to the opening build up. Pounding drums and angelic female vocals are added before cymbals crash in and the guitar starts to echo around the track. It's a grand song from the big sounds which are created musically and it is a stunning start to a spectacular EP.
'Memorial Pt. 2' starts straight off the back of hard hit drums into a small interlude before a fast paced drum, sparkly guitar sounds and soaring vocals take over. It's almost like this second part of 'Memorial' is the calm after the storm, the good after the bad. It has a much more upbeat with a rhythmical tone running throughout compared to the previous track which was dank and heavy in comparison to these lighter, carefree sounds.
Title track 'Bound In Love' opens with a steady oscillating guitar riff while light cymbals and dual vocals carry this track to the chorus where the drums pick up creating a constant, reliable rhythm. It's slightly more down-tempo song than the last but around halfway through the pace picks up with hand claps, a quicker guitar line and swaying melodies.
Softly strummed guitar and big classical piano notes open final track 'Fight and Fall' giving it a melodic and wavering quality. It's calm and beautiful in its execution with those dual vocals that sit so well against each other – one childlike, the other steady and calming. Halfway through drums speed up starting to pound, guitars get faster and vocals become quick and repetitive ending the in a really great way while you drift off listening to the luscious meets rockier sounds.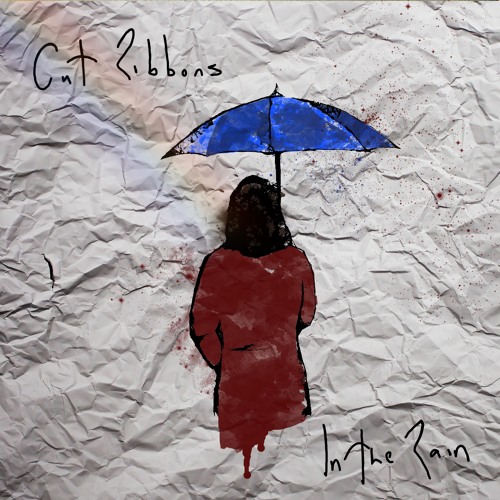 Recent single 'In The Rain' is insanely catchy. This one kicks off with fluctuating synths before calming down for verses of tag team vocals, yo-yoing synths, calm drums and a steady guitar line. Choruses see huge sounds with soaring vocals, big percussion and fast guitar while lyrics talk of overwhelming emotions 'in the rain, feels like we're drowning'. With such big choruses, wonderful musicality and great harmonies, this is one of the best efforts from the band in a back-catalogue of gems.
Finally there is a remix B Side in the form of 'Bound In Love [Prides Remix]'. The oscillating guitar has been replaced with fluctuating deep sounds; muffled vocals are distorted while electronics build up and fade out alongside fuzzy bass moments and a strong beat. It's very different to the original but it does still retain that strong rhythm and those calming elements.
Both releases are absolutely wonderful and show huge promise for the future of Cut Ribbons.
Credits