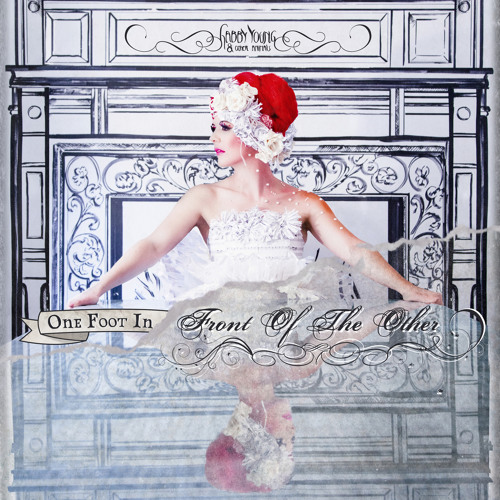 Gabby Young
One Foot In Front Of The Other
Release Date: 2nd June 2014
The bright red hair, strong look and stunning yet powerful vocals of Gabby Young have been making quite the impression all over the music scene of the UK, Europe and further afield over the past couple of years. After a successful run of releases which includes 2 albums as well as plenty of EP's and singles, it's time for another big release from Young and her band, 'Other Animals'. 'One Foot In Front Of The Other' is a full length that sees a growth in sound and a mix of genres.
The album opens with 'Sur La Lune […A French Ditty]' which sees the strong voice with such a rich tone of Young opening proceedings while quick, upbeat piano and accordion join the ranks further in. This is definitely a French sounding track with wonderfully jazzy yet classic sounds whisking you to the streets of Paris from the opening moments. Packed full of dramatic and flowing sounds this one is utterly stunning and could easily be from a 1940's film soundtrack.
Quick piano lines, fast paced sporadic drums and trumpets add a jazzy yet sultry atmosphere to 'Time'. Verses are slower with that sexier edge makes it feel like you are sloping around French streets but when the drums kick in and the trumpets start up you are transported to the carnival atmosphere of New Jersey.
This mix of jazz and big band sounds mixed with traditional sounds of France and Spain creates a unique sound brought up to date with indie elements and Young's vocal quality. This is also seen on single 'I've Improved' with its commanding Spanish sounds from the horns, trumpets, pounding drums and quick guitar. The vocals are ferocious vying for your attention from the off from the brilliant rhythm found on this danceable track.
Whereas tracks such as 'Fear of Flying', 'Saviour' and 'Back of The Car' are all much calmer affairs with softly plucked acoustic guitars and a voice that flits from serene to soaring and huge. The first has the addition of strings and piano that creates a soundscape perfect for guiding you through the storytelling lyrics while the second is a good effort but slightly disappointing after following the spectacular 'Another Ship'. On that track, plucked strings, haunting backing vocals and a soft yet rich vocal carry us through and it is this sparse simplicity that makes this so stunning to listen to. Halfway through marching band drums and tinkling piano come in adding fullness to the overall sound but not overpowering the gentle tones which had so far dominated.
Tinging xylophone dances around soft guitar and gentle cymbals before 'Smile' picks up its pace with soaring fairytale-esque high notes and becoming happy and upbeat through the lyrics and melodies, this one is guaranteed to make you smile. While 'The Devil Has Moved In' has a deep strong storytelling vocal reminiscent of the best West End musical stars, this is backed up by a dark tone to the music and menacing themes found in lyrics of devils, money and powers driving people to evil and sin. Here the big band sound is back again creating a track that is brilliant demanding your attention from first note to last.
'One Foot In Front Of The Other' sees a piano line that grows in intensity towards the chorus where strings, percussion and guitars are introduced before a final chorus that sees vocal harmonies mashing together and trumpets that produce a big sound to end this title track on. On the other end of the spectrum we find closer 'Back Where We Started' featuring high pitched trumpets and a samba style beat giving it an upbeat, summery atmosphere that instantly transports you to Brazil. This one is very different to a lot of the other tracks on the album but the quick rhythms and full on party atmosphere is a great addition that will see you shaking your hips one final time.
In the main, this is a very strong release and one that will undoubtedly impress many. With such a distinctive yet classic vocal tone, Young has a voice that she can always rely on to produce the goods as it has here. The flits from calmer, folky ballads to movie soundscape style tracks to ones like the last track that are full of party atmosphere gives the album diversity that still works together. All in all, this is a release that Gabby Young and Other Animals should be very proud of.
Watch the video for the single 'I've Improved' below:
To find out more about Gabby Young and her music visit her website, her Facebook page, her Soundcloud page or you can follow her on Twitter – @gabbyyoung