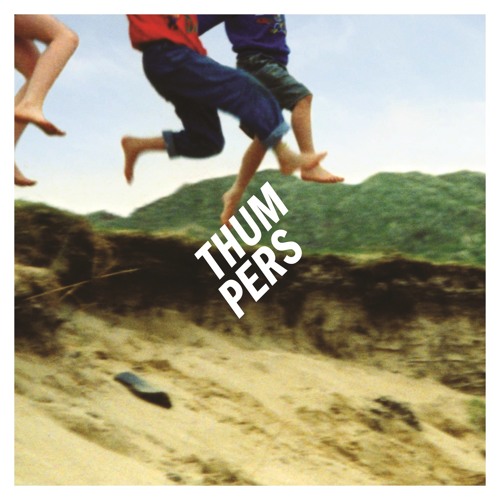 Thumpers
Galore
Release Date: 19th May 2014
If I'm honest, this is the one album I've been looking forward to hearing all year. Since discovering Thumpers last year I've been a huge fan of their music and upbeat, summery pop meets indie sound. They were one of my highlights of last year's Leeds Festival and every song they've released up until this point has been brilliant. With that much anticipation over an album I was worried I may have built it up too much but that is far from the case.
We kick straight in with chaotic drums, hi-hats and a strong piano line on 'Marvel'. It's a big start to the album with those huge beats set against tranquil moments of melody, hazy vocals and atmospheric sounds, all of which is given a touch of grandeur with the introduction of trumpets towards the end of this one.
The next 3 are previously released tracks; the first is the dreamy vocal and shoegazey guitar of 'Dancing's Done' while choruses see melody, merging vocals and a swift steady drum fuelled rhythm. A mid song riff adds a bit of a rock edge before swirling sounds and musical layers play us out. While 'Sound of Screams' is a much more uptempo effort with high pitched vocals, crashing cymbals, oscillating synths and build up's used perfectly to add to the intensity to the wall of noise created by all those instruments. There is a lot going on here but it works so well to create a song you can't help but dance along to.
The first track I heard from the band was 'Unkinder [A Tougher Love]' and it is still one of my favourite after months of repeated listening's and it's easy to see why. Echoey synths, powerful drums and wonderfully harmonious backing vocals that complement the catchy rhythm feature in the verses while the chorus is festival sing a long classic in the making with big synth sounds and a reverberating guitar line, it's the upbeat atmosphere that makes this one like summer bottled up in a song.
Throbbing sounds create a perfect foundation for vocals, spacey electronics, spikey Foals-esque guitar and a strong beat to sit on for 'Come On Strong' while it's a more subdued start to 'Now We Are Sixteen [feat. Summer Camp]'. The nostalgic look back lyrics – 'talk to me like we're sixteen' and 'everything is better when we're sixteen' – are portrayed with vocals that are left pretty much on their own with just a minimal drums backing them up while pulsating synths, echoey vocals and plenty of atmospherics build up's create a calming ambience. This one is the perfect mid-album moment of calm before next track 'Tame' arrives. It's a track that is anything but what its name suggests featuring lyric themes of lying to your friends and daggering people before they wake which is teamed with dominant sounds in the form of fuzzy guitar, commanding drums and rapid, chant-like backing vocals.
The title track of an album should always be a highlight and one of the strongest; this is definitely the case with 'Galore'. Choruses of fast drums and sparkly synths that ebb and flow from your consciousness back up a piercing vocal which together provide us with a hook laden rhythm just begging you to sway your hips to, the tempo subsides for verses however where clearer vocals and sparser sounds in the form of a simple piano line and clapping hands can be found.
The next 3 tracks take us on a journey sonically from the bassy synths, big drum sound and vocals all with a fuzzy edge to them appose sporadic tinkling keys, gang style vocals and swirling sounds found on 'The Wilder Wise'. It's a huge song full of epic moments and is easily one of my favourite tracks on the album. Dreamlike, drawn out sounds of 'Unkinder' take us from that track and fade out in 'Roller', a track that sees padding drums, pulsating bass and spoken vocals throughout the verses while at the opposite end of the musical spectrum the choruses are flowing, upbeat and laced with soaring vocals. While a soft organ like piano sits behind calm vocals on 'Running Rope'. The drums come in strong and then proceed to back out of the track repeatedly while an intricate oriental sounding guitar melody dances around ringing in your ears long after it's gone.
Final track 'Together Now' opens with distorted and jagged synth that produces a steady rhythm for placid harmonious vocals that speak of running home and not wasting time on light as the sun is sick in the sky. The pace picks up in the chorus with rapidly sung vocals and fast piano though ultimately this track is much more subdued in the main than others on this album, playing us out on a calmer note though not before huge horns kick in ending this with a bang.
For me, this album showcases the bands talents perfectly from using simple yet effective techniques of vocal harmonies and layers of sounds using every single member to their fullest potential to create such a huge sound to the confidence and experimentation sonically that can be heard throughout. An excellent and promising debut from Thumpers.
To find out more about Thumpers visit their website, their Facebook page, their Soundcloud page or you can follow them on Twitter – @Thumpers
Thumpers are also on tour in the UK from this week, check their website for dates and tickets. I would completely recommend seeing them as well by the way if you can get tickets because they are pretty brilliant live.
Credits