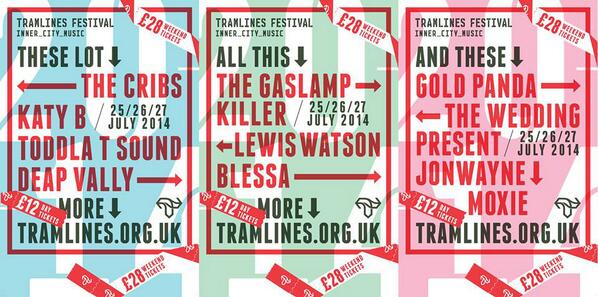 This morning the very first acts playing this year's Tramlines festival were announced and there is some very good and very big names on the list already this year.
Sheffield's annual music festival has consistantly got bigger and better every single year since it's inception back in 2009. In it's 5th year it will see the usual mix of local talent and big names playing a multitude of venues across the city from tiny stages in little pubs to the iconic Leadmill stage to the main stage situated in Devonshire Green. Though the festival has had to change over the years, starting out as a free festival that now has to charge in order to keep running, it has not stunted it's growth or put a downer on it's popularity as it has grown year on year, getting more and more people into the Steel City and attracting bigger acts and making names and memorable moments for plenty of local talent.
The first acts to be announced this year include the main stage headliners of Katy B and Toddla T Sound [Friday] and The Cribs [Sunday] as well as acts such as The Wedding Present playing The Leadmill on Friday night, the brilliant Deap Vally also at The Leadmill but on Saturday and Benji B playing Friday night at The Bez Club. Other acts announced so far include Blessa, Gold Panda, Lewis Watson, The Gaslamp Killer and more. Surely it's set to be another big year for the festival and I will most certainly make it down to Leadmill on Saturday night for my favourites Deap Vally.
If you are planning on attending this year's festival then it takes places over the weekend of 25th, 26th and 27th July. You can buy tickets now from the website. It's currently £28.00 for an advanced weekend ticket or if you are only planning on attending for the day then it's £12.00 for an advanced day ticket for Friday, Saturday or Sunday.
More announcements of the line up will obviously be made over the next few months so keep your eyes fixed to the website, their Facebook page or follow them on Twitter – @tramlines to keep up to date with the latest news and announcements.
Get your tickets now to experience the amazing Tramlines festival, honestly it will be another good one from the looks of things and I'll see you there!