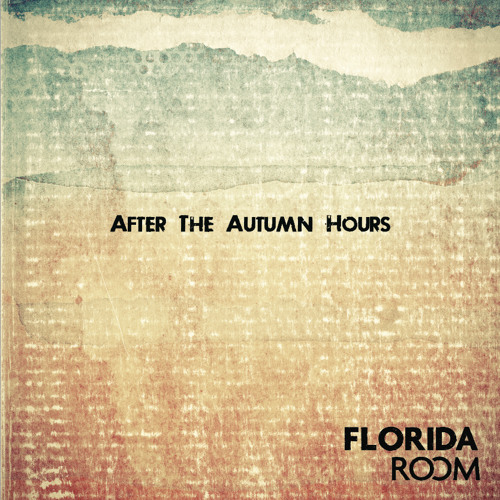 Florida Room
After The Autumn Hours
London four piece Florida Room released this EP at the end of last year and are currently gearing up to release a debut album later this year. With this five track debut though the band set a high standard for themselves with a really good first offering inspired by the likes of Arcade Fire, Grizzly Bear and Interpol.
Kicking straight into echoing guitar strums and a prominent bass line weaving throughout the catchy rhythm and dance-a-long beat on offer from 'The White Room Verses'. Vocally, it's something a little more unique with a voice that fits the indie-pop song but also completely grabs your attention. The choruses have slightly more drawn out vocals and a funky fast paced guitar giving it that more atmospheric sound to the up-tempo summery track.
'A Waltz In A Different Kind of Bliss' opens with a stodgy sounding bass and progresses up to a good guitar melody. It's a softer, more toned down song than the last and it flows a lot more having the right sort of musicality to get you swaying along. There's a subtle build up to the final chorus where gang vocals and a bigger drum sound that fills this one out.
Again it's another slow, almost acoustic start for 'This Idea of New Romance' with just soft guitar and a bass line backing up the vocals for the first verse. The backing vocals to the chorus build the track into something a little louder but this is still a quiet and wonderful moment. Drums come in halfway through adding just a quick underlying layer to the song, they're there as an accompaniment to the soft sounds making the track a little bigger but not deterring from anything else already there.
Soft almost patted drum beats open 'All Love Lost', thing are taken down to almost silence half way through with the vocals taking centre stage and cymbals helping the song come back in again. The final part of the song is full of guitar hooks and strong riffs and has hints of rock running throughout the indie sound.
Finishing up on 'The Hours', another acoustic ballad and a really fantastic showcase of how this band differentiates their sound, from the upbeat indie pop of the first track to the stripped back quality of this. There's soft guitar that accompanies strong vocals where you can really hear the emotion. It's quite wonderful to be given the opportunity to hear that from a band so early in their career, showing their passion and using their emotions/experiences to create some beautiful music.
This is a really solid first EP from Florida Room, all five tracks show off the bands talents and musicianship perfectly. 'This Idea of New Romance' in particular is a track that really stands out, it may be a soft acoustic song but its level of quality on offer really makes you sit back and listen to this quite wonderful collection of songs.
Here is the EP for you to listen to:
To find out more about the band visit their website, their Facebook page, listen to them on their Soundcloud or follow them on Twitter – @floridaroomband